Getting to Mallaig and Arisaig
Getting to Eigg from Mallaig
Getting to Eigg from Arisaig
By Rail

With ScotRail from Edinburgh and Glasgow on the West Highland Line, which has been voted the Top Railway Journey in the World.
You can also use the Jacobean Steam Train between Fort William and Mallaig which runs during the Summer months. Please call West Coast Railway Company on 0845 128 4681 or Click here to view timetable
By Bus
Stagecoach run a service from Glasgow through Citylink to Fort William.
From Fort William Shiel Buses run a regular service to Arisaig and Mallaig. Click on the Blue links for the Summer timetables
By Car
Highway regulations do not permit Visitors' cars on the island unless you are disabled. So if you do choose to drive, cars must be left in Mallaig or Arisaig. There are plenty of parking spaces at Mallaig and Arisaig. Eigg has a good taxi service.
By MV Loch Nevis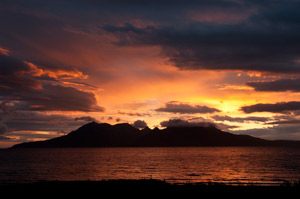 Sail from Mallaig direct to Eigg, with a journey time of 1 hour 15 minutes. There are plenty of car parking spaces at Mallaig around the harbour. The summer timetable runs from March 'til October.
The Ticket office is on the Pier and can be contacted on 01687 462403
There are excellent buffet facilities onboard the boat, and there is a disability lift on board. There are direct sailing to Eigg on Mondays, Thursdays and Saturday afternoons.
If you would like to see some of the other islands en route to Eigg, Tuesday, Friday and Saturday morning boats visit the other islands. For full details of the sailings timetable click on the blue link (summer timetable) above.
MV Sheerwater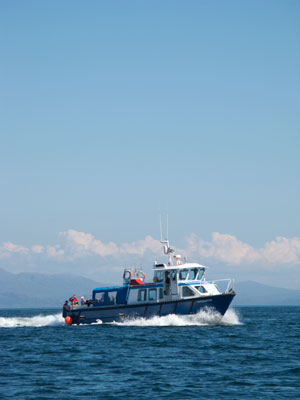 Tickets For M.V. Sheerwater are purchased from the newly built Harbour Office, which also houses a small Tea Room & Gift Shop.
The Tea Room provides high quality Fairtrade Organic Coffees, Hot Chocolate & Speciality Teas. There is a good selection of Home Baking and tubs of delicious Organic Ice Cream & Smoothies. The Gift Shop offers a wide range of unusual Gifts, Jewellery, Soaps & Cards. You can also purchase local Walking Guides, Maps & Fishing Equipment.
The Sheerwater generally operates from Easter until the end of September when she sails to the islands of Eigg, Muck and Rum
The trip on The Sheerwater takes approximately 1 hour. It is quite usual to see Minke Whales, Porpoises, Common and Gray Seals, Basking Sharks, and Dolphins on the journey. You will also see a great variety of Seabirds, including Gannets, Puffins, Guillemots, Razorbills and rafts of Manx Shearwaters.
There is parking available at the Arisaig Marina.
Arisaig Marine Tel. 01687 450224. Email: info@arisaig.co.uk