Welcome to the Tophouse on the Isle of Eigg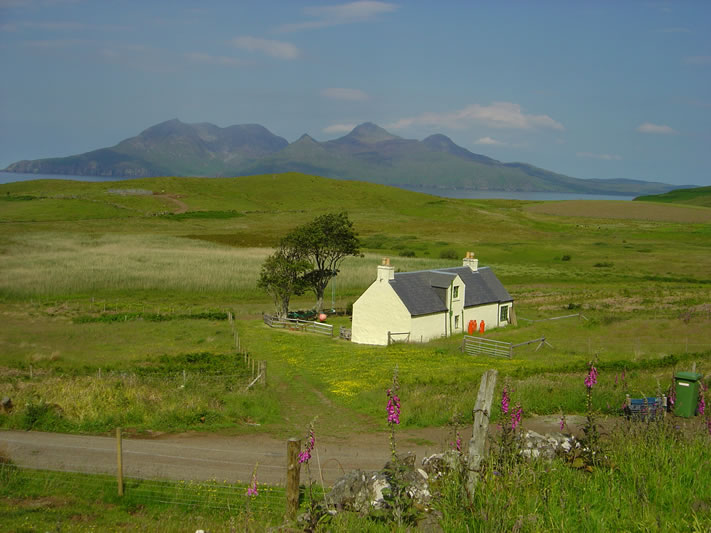 The Tophouse is situated at the north end of the cluster of houses that make up the crofting township of Cleadale with views out west to the Isle of Rum. An evening spent watching the sun slowly setting behind Rum's mountains is something not to be forgotten easily.
One of the first things that strikes visitors is the silence. From the garden hen harriers can be seen hunting over the reed beds while the songs of reed warblers, cuckoos and snipe fill the air. From the back of the house the eerie call of the manx shearwaters can be heard as they return from fishing out at sea in the early hours, to their nests in the cliff face of Ben Bhuidhe
Laig Bay, with its three-quarter-mile-long stretch of white sand is only 20 minutes walk along the road and then down the track. The smaller famous Singing Sands Bay is about the same distance away across the Common Grazing. Here the unique sands squeak, or 'sing' when dry as they are scuffed.
Behind the house is the dramatic cliffed amphitheatre of Ben Bhuidhe with its strange upstanding rock formation of the 'finger' at the far end. A strenuous climb up a zig-zag path takes you to the top, and Cleadale then lies stretched out before you with its nineteenth century straight croft boundaries overlying a much older sinuous possibly prehistoric  field system. On a clear day the Island of Barra can be seen on the horizon out to sea. Buzzards and ravens often fly above and around the house